By: Becky Kirkpatrick-Oppe
The Little Kanawha Valley was first visited by Europeans; William Lowther, Jesse and Ellis Hughes in 1772, when they passed through our area. Toward the end of the Revolutionary War, Adam O'Brien and his son-in-law Peter McCune came through scoping out the valley. Peter must have liked what he saw here. He came back in 1810 and settled at the mouth of Leading Creek. The military would many times, give out land grants to those that served. William Stalnaker was a lieutenant in the War of 1812. For his service he was given 30,000 acres of land in Lewis County, one of Gilmer's parent counties. He found a deserted indigenous people's village. There he put down stakes and claimed his land near Mill Seat Run, on the banks of the Little Kanawha River. These were the first few to call what is now Gilmer County, home.
The Stalnaker family, William, Elizabeth and their son Salathiel, moved in. They had a group of twenty slaves, brought in to clear the land and build a tobacco plantation. In 1820 they built a two story, brick home on the banks of the Little Kanawha River. In the following years a second home was built with homemade bricks. It would go on to serve as the first Gilmer County Court House, when we became a county.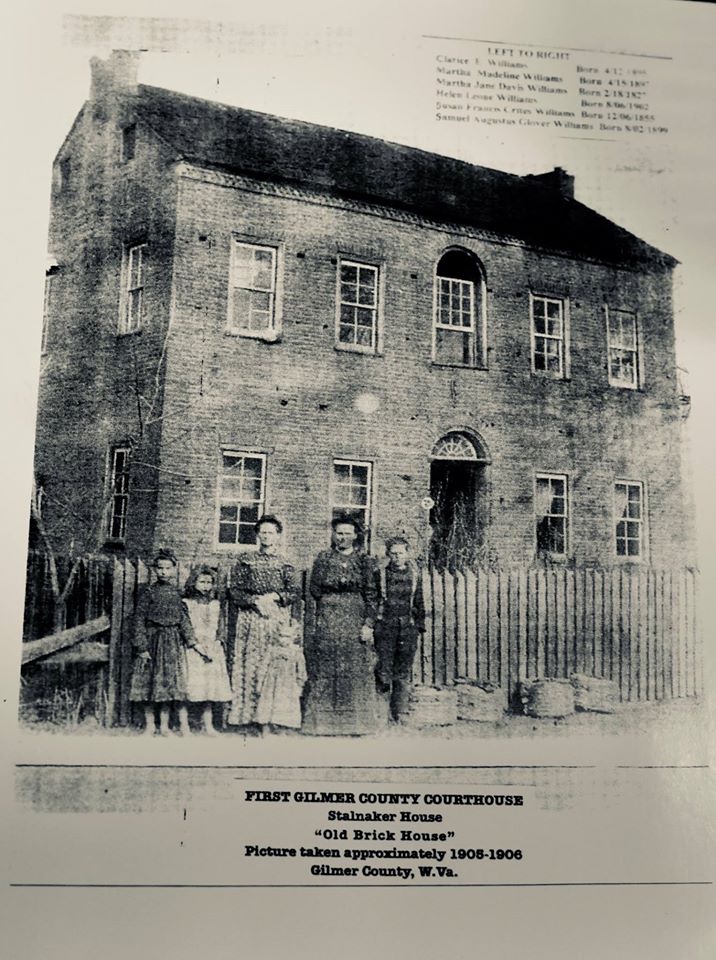 Taken From: "Inventory of a county archives of West Virginia, # 11, Gilmer County (Glenville)"